Like every year, since 8 years, this year I made a Burkina trip 2020! I wanted to gain new knowledge of the pentatonic balafon on in Burkina Faso. Intensive lessons for at least ten days and also practicing; a spicy but delicious experience every year in the culture capital of West Africa: Bobo Dioulassso! This year 5 of my students  signed up to join. In addition to Anja (who wants to join every year), and Hans (now for the third time in a row), there was a lot of enthusiasm from the Uithoorn class to join and also make it a joint adventure with the group. Eventually Yvonne, her daughter Winnie and Bas went along. Bas wanted to teach N'Goni and it is no problem to organize it easily. Winnie wanted to do both Balafon and N'Goni for 50/50 lessons.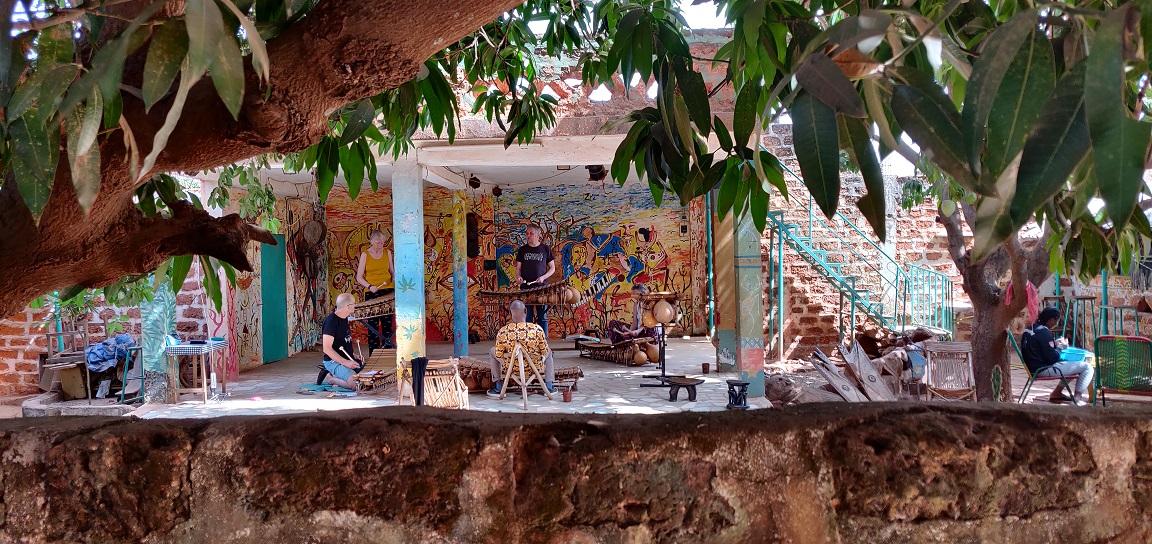 Security situation
Burkina Faso has been increasingly the target of terrorist attacks and criminal robberies in recent years. We were really concerned about that ahead of our trip. The travel advice from the Ministry of Foreign Affairs had been tightened in recent years. But in the weeks before our departure, there were again some attacks in the North and East of the country. All of Burkina was now "only necessary travel" and the edges "no travel". Our destination; via the capital Ouagadougou and then by bus to Bobo Dioulasso, had long remained safe but the question was. "Can you go?" We already had our tickets at home and that prompted some own research before we would make a decision. Calling and emailing friends in Bobo and Koudougou, a phone call by Yvonne to the Burkina Faso embassy in Brussels. She speaks perfect French and was therefore able to absorb all information well. Fortunately, reassuring sounds came from all our sources. People were very enthusiastic about our trip at the embassy and asked us to call and report again afterwards. The unsafe situation did not really apply to Bobo and Ouaga or the bus route between them; we decided to go!. However, the planned excursion to a village was canceled, also because the festivities had been canceled.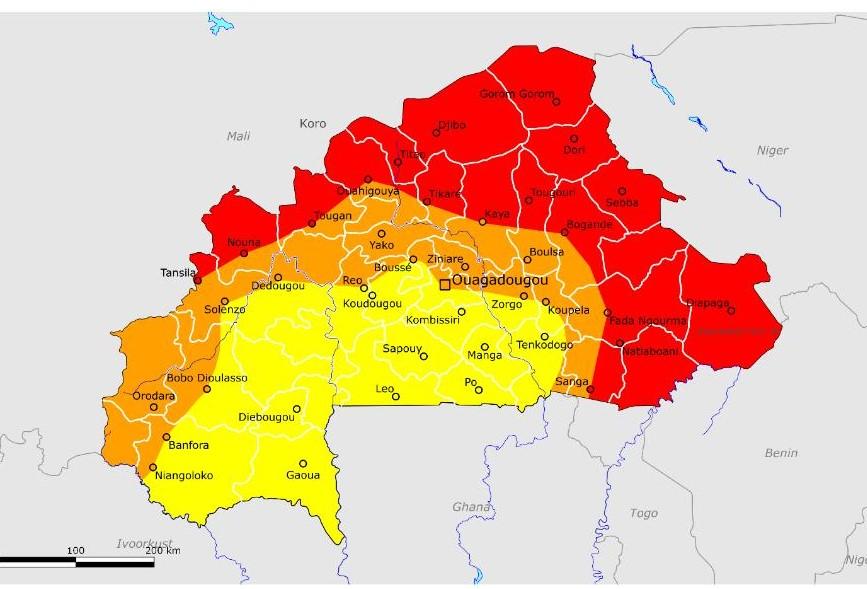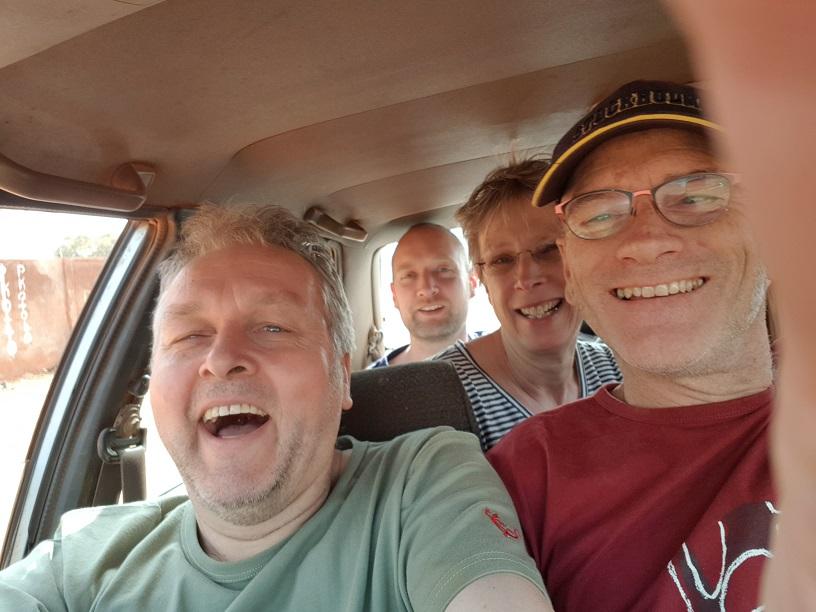 Brussels
The four from the Amsterdam / Amstelveen area decided to travel to Brussels the night before our flight, otherwise the plane might be missed with some setback. So they added a tourist outing to Brussels. Anja and I joined them on Saturday morning and we could fly!
In the plane, little was noticed of decreasing flight needs. The number of whites on these flights is normally not that high anyway. After a peaceful journey we landed in Ouagadougou and had us taken by taxi to Pension Sarah. We stayed here overnight to catch the bus to Bobo early the next morning. Although the air in Ouagadougou is heavily polluted by smoldering (waste) fires, blown dust and bad combustion engines, it was still wonderful to be back in the evening air of a tropical destination. On Sunday we took the bus to Bobo and in the afternoon arrived at my permanent residence in Bobo: Hotel-Resto-Maquis: Zion.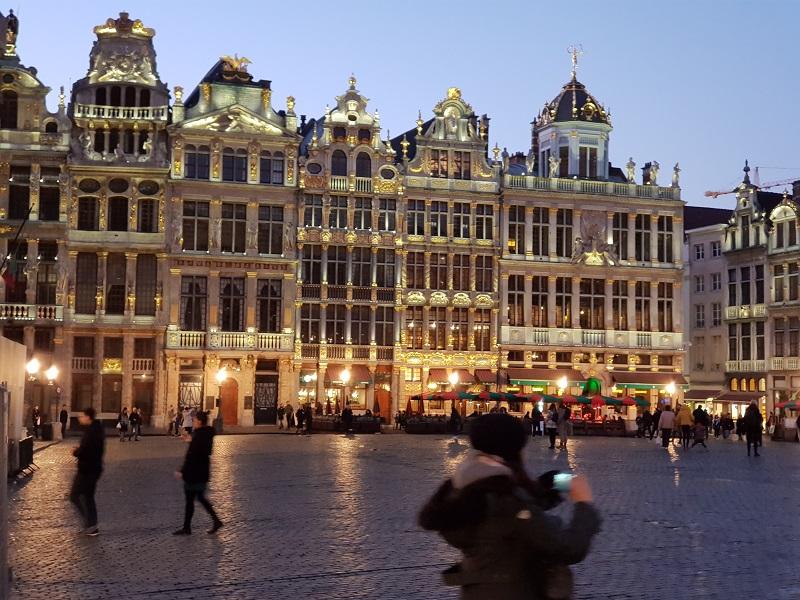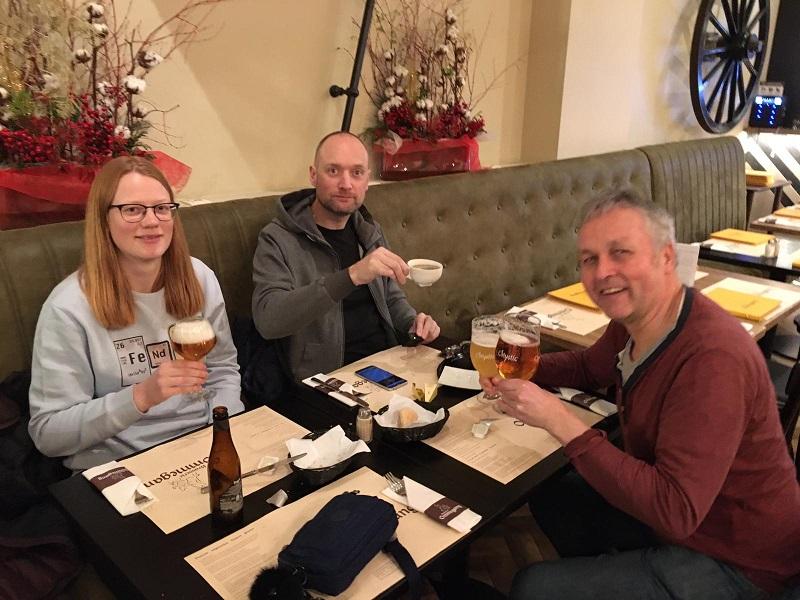 To Bobo and ZION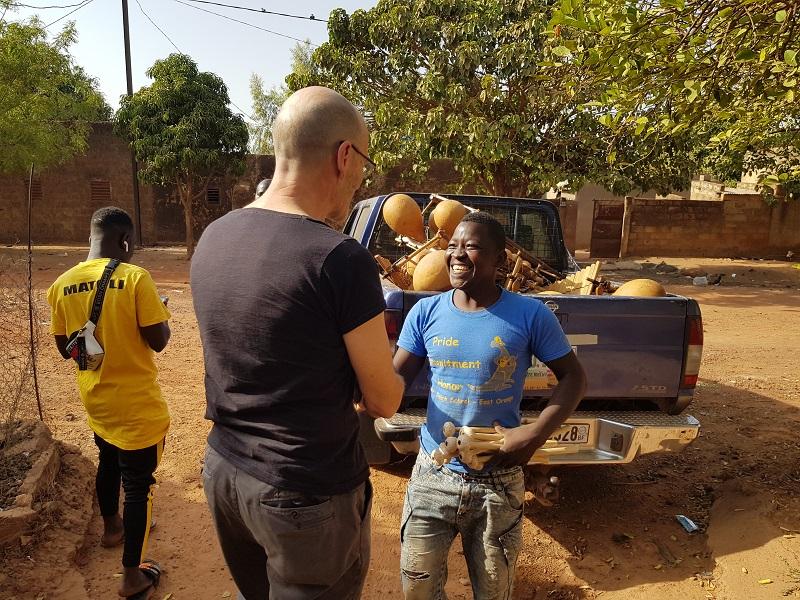 The hotel also noticed that western tourism in Burkina Faso (even further than in previous years) had declined. After Odile had previously left for France with her new husband and Adama – her buddy at the hotel – had now also taken on other work.
The management of the hotel was now in the hands of the owner's brother. For us, all meals would be prepared as desired (as usually), but the walk-in restaurant function was discontinued. Furthermore, it seemed that people, students now lived in the hotel. During our stay we found out that they should have made way for our party (with 6 out of 8 rooms). In one room of up to 2.5 x 2 meters, 4 people slept! We also occasionally saw a mountain of clothes that was also inside and there was cooking in that room! While in the courtyard of the hotel there was enough space to cook outside the room. In the pantry next to the kitchen, a double bed was also improvised. Its residents were disturbed for every bottle of beer or cola we ordered… ..
N'Goni lessons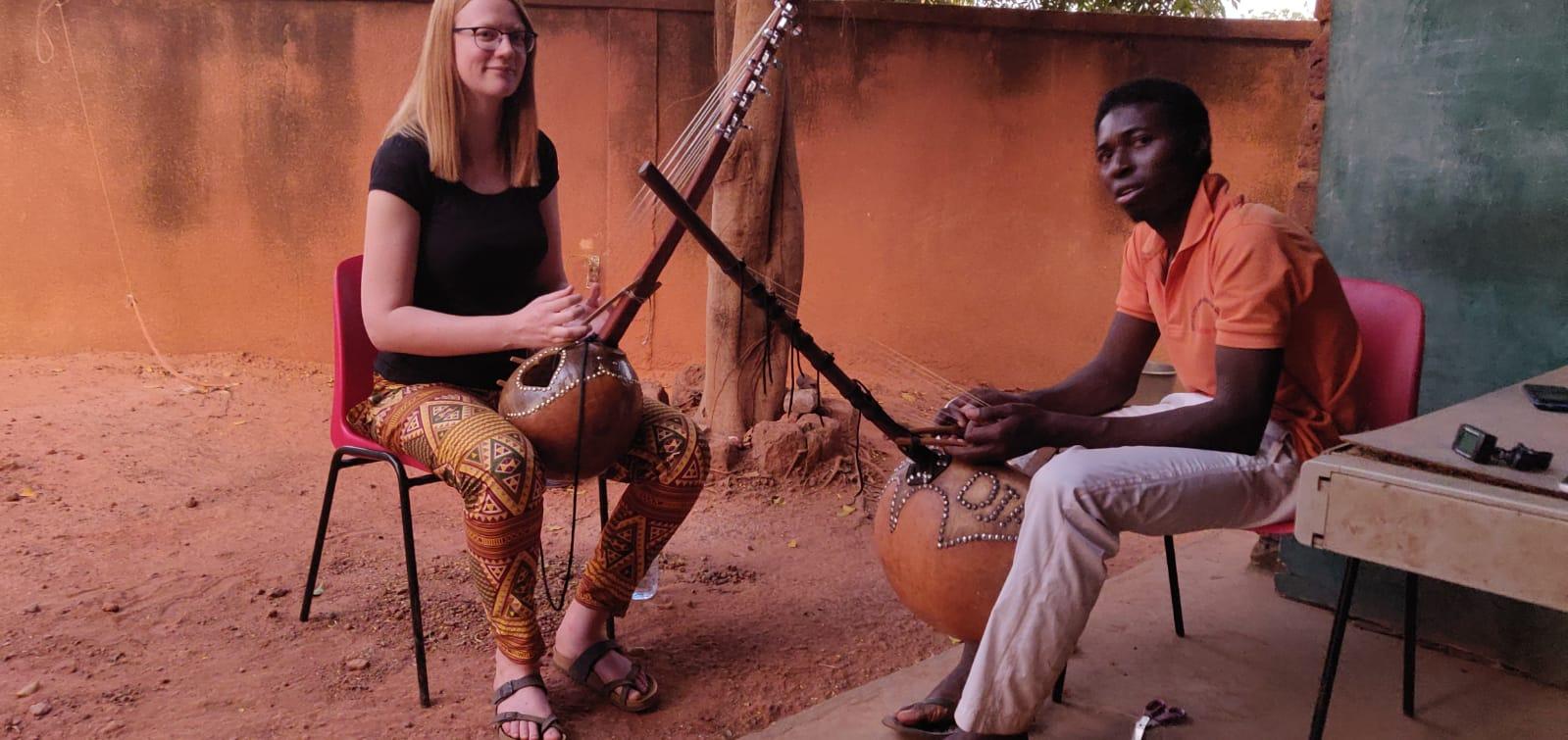 Because Bas (100%) and Winnie (50%) also wanted N'Goni lessons, we made a distinction between before noon (with Winnie) and after noon (without) for the balafonclass. For the N'Goni lessons we went looking around in the area for a suitable location. Another hotel in the district, it seemed, with a beautiful green garden. However, it was a walk.
There is also a study center nearby, where I have always been copying and printing concept teaching materials and we were also welcome in a nice spot in front of the center, in the shade. However, we heard that the English teacher had suddenly left and that they were now without a teacher of the Sunday class. This prompted us to register for that task once. The first Sunday we had no lessons ourselves, so we could offer a sort of convesation lesson. At first the idea was that Yvonne and I would do that alternately, but once there, it suddenly seemed better to split up the group (about 20 students) and have conversation in English in small groups with one or two of our balafon-group. The students liked that and asked for more lessons late. Unfortunately, as we ourselves had a busy scedual with our own program, we no longer had time for that.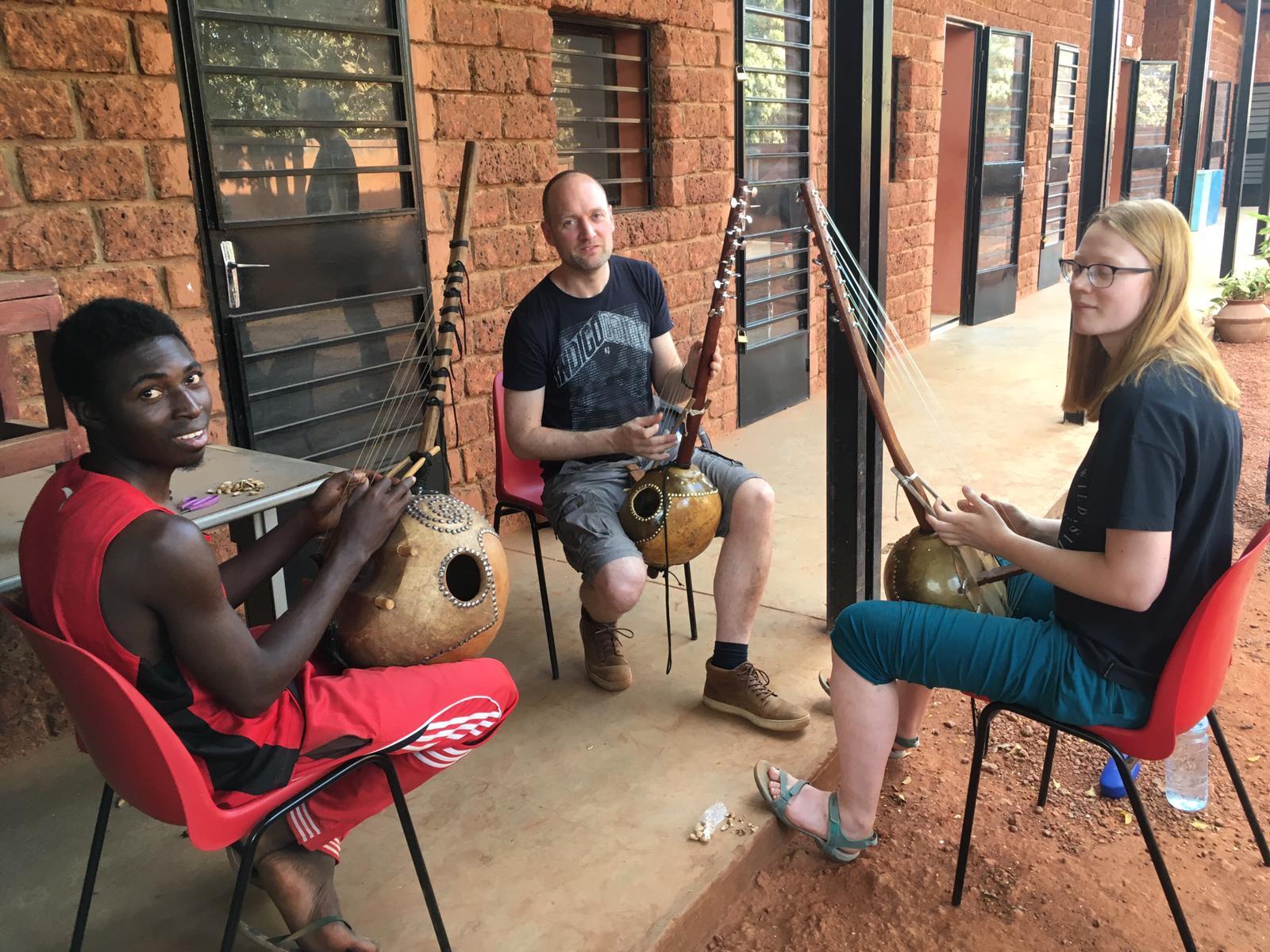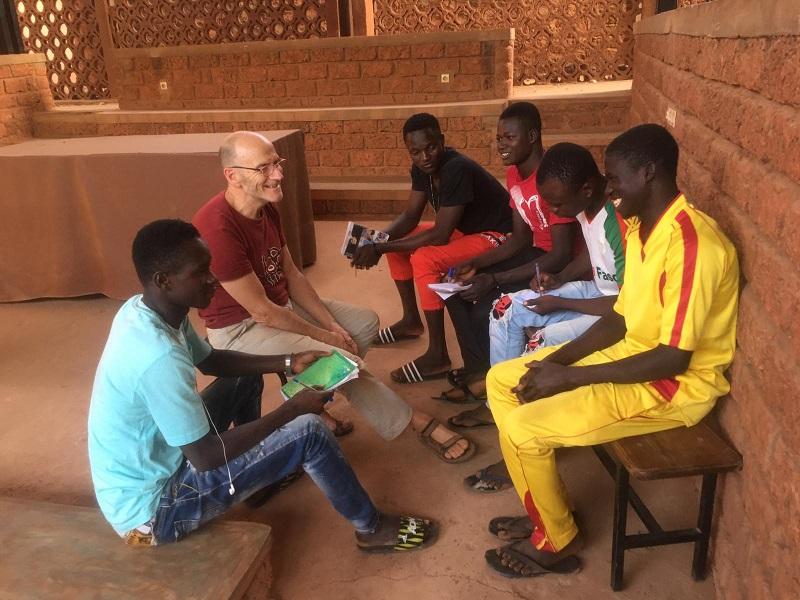 Balafonlessons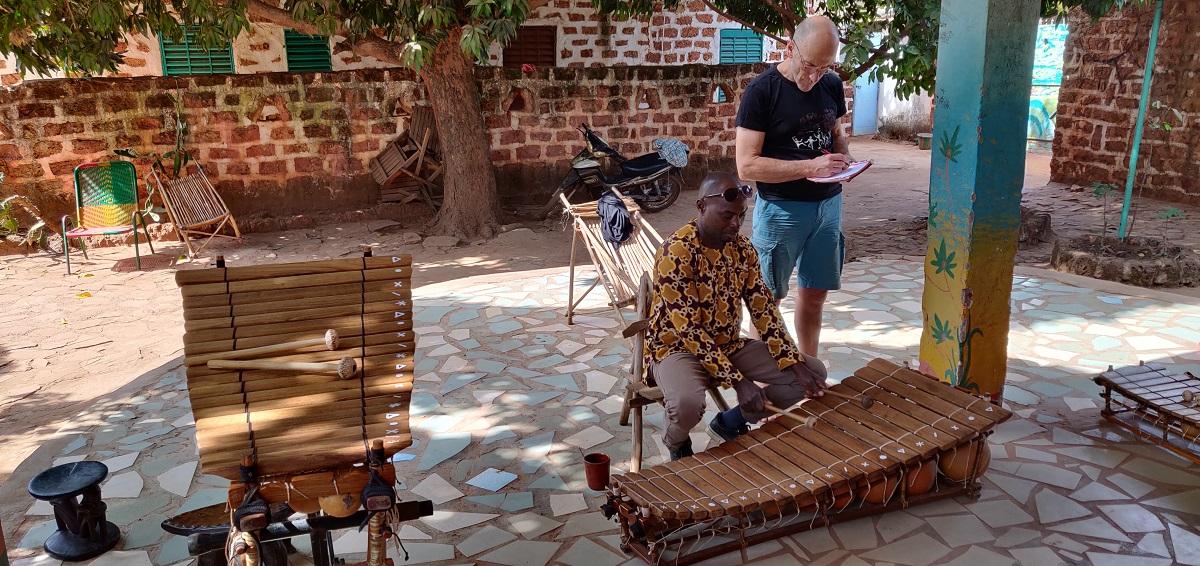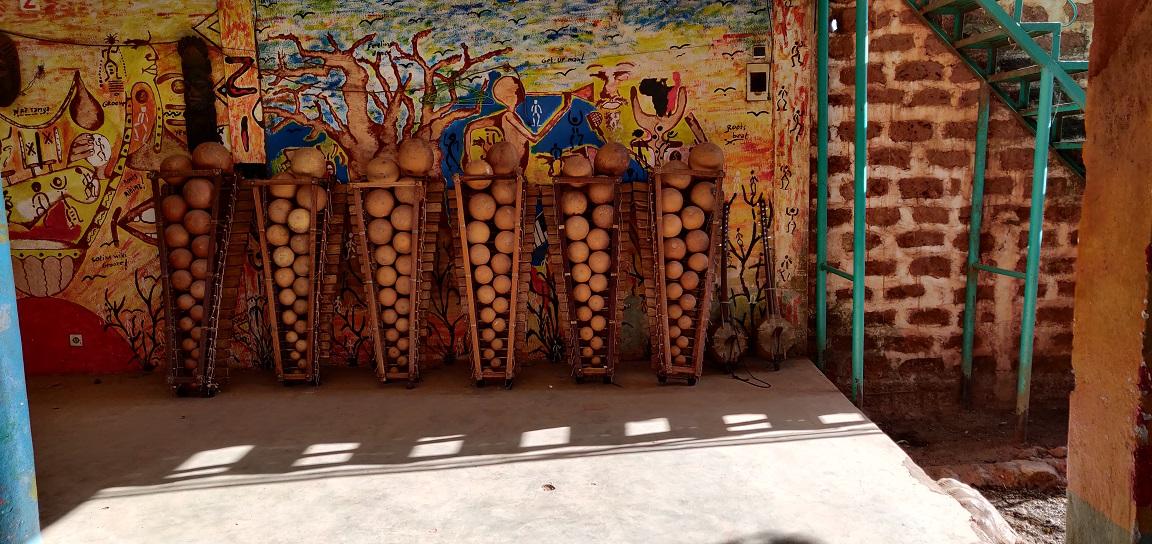 As has grown in recent years, Youssouf and I did the balafon lessons together. Youssouf presents the complete piece and song, while I start analyze and write down what the patterns should be. Then I will gradually learn the pattern myself and at the same time instruct the others. Youssouf checks for correctness and plays along the still missing measures of a pattern to still get a complete image and feeling with the pattern. We can also quickly practice in "loops" and we are therefore also quickly making music together. We learned 6 balafon pieces from Youssouf this year. Each with at least the  melody, a song and two patterns.
Hotel Zion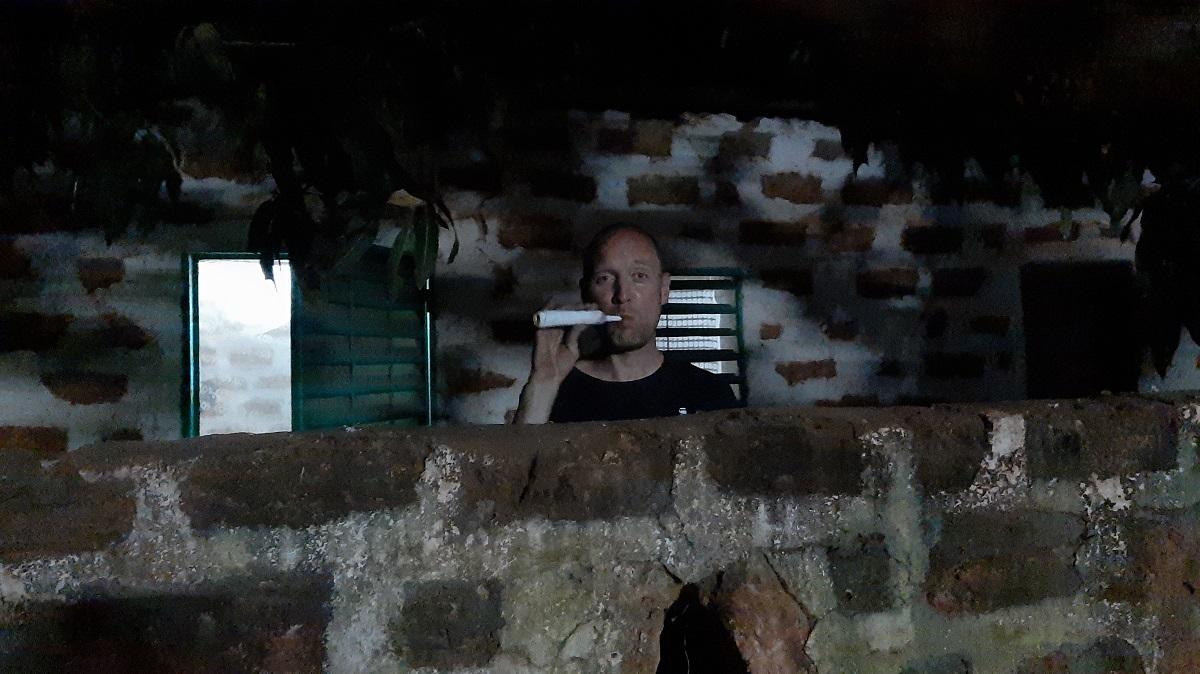 In the first days we met the staff who would take care of us during our stay. Drissa's (brother of the owner) was responsible and made the decisions. His wife Fatoumata barely speaks French, she did the laundry for us). She was also busy with her baby and occasionally went to her village and was gone for a few days. Our cook, Felicité, was an exuberant yet somewhat insecure woman towards us. (Asking all the time "Tu est Fatigé?"). She had made a list of things she could make for us. When we heard it, it was clear, "Start with the first!" Later, the peanut sauce became an often recurring element in our meals; delicious!
Ibrahim was there especially for us to provide us with everything we wanted from the bar in between. He turned out to be a Malian boy who had already been in Libya trying to cross to Europe. Disillusioned and traumatized from everything he had experienced en route and during his repatriation, he was able to earn some money again in ZION. That way he might be able to face his family in Bamako again. Both Felicité and Ibrahim were single and were open to get in touch with an – unmarried – Western man / woman for a possible relationship. However, no response from us.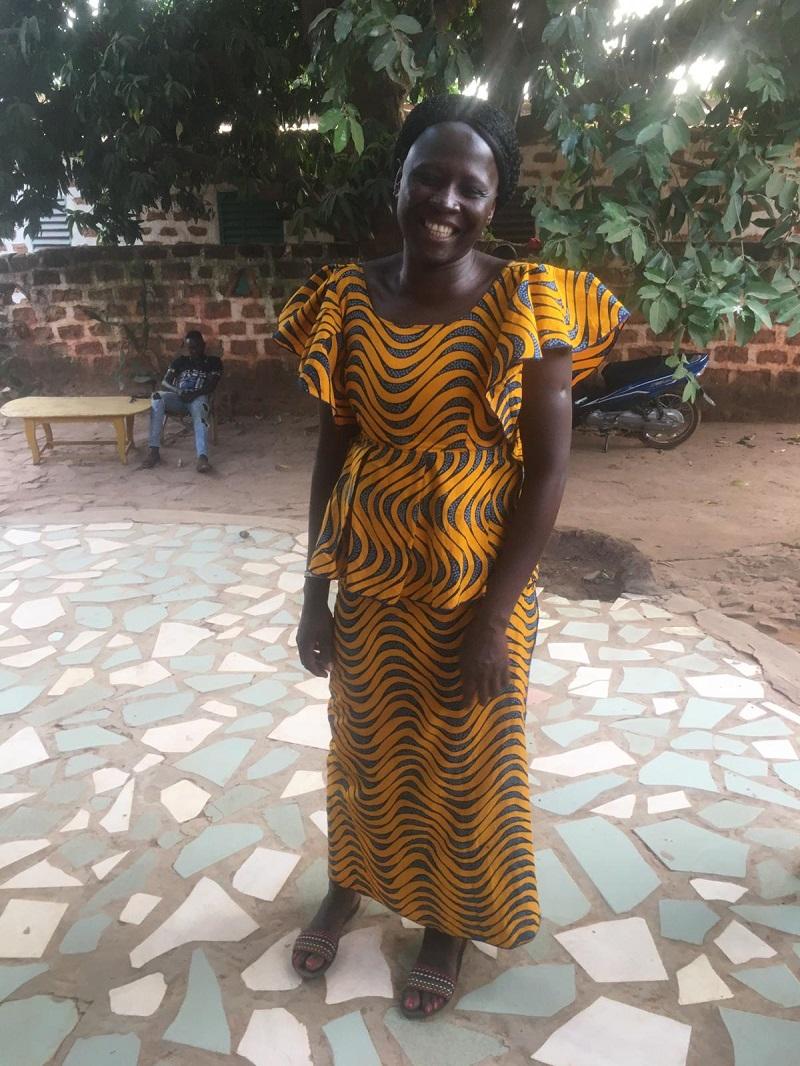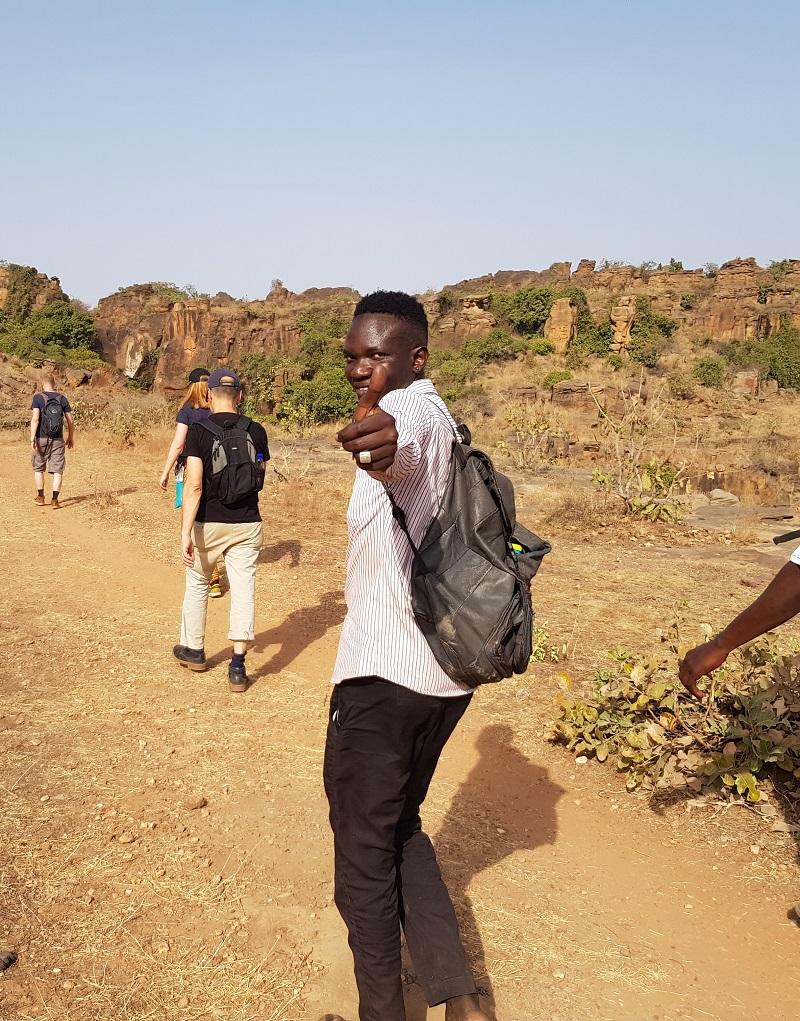 Trips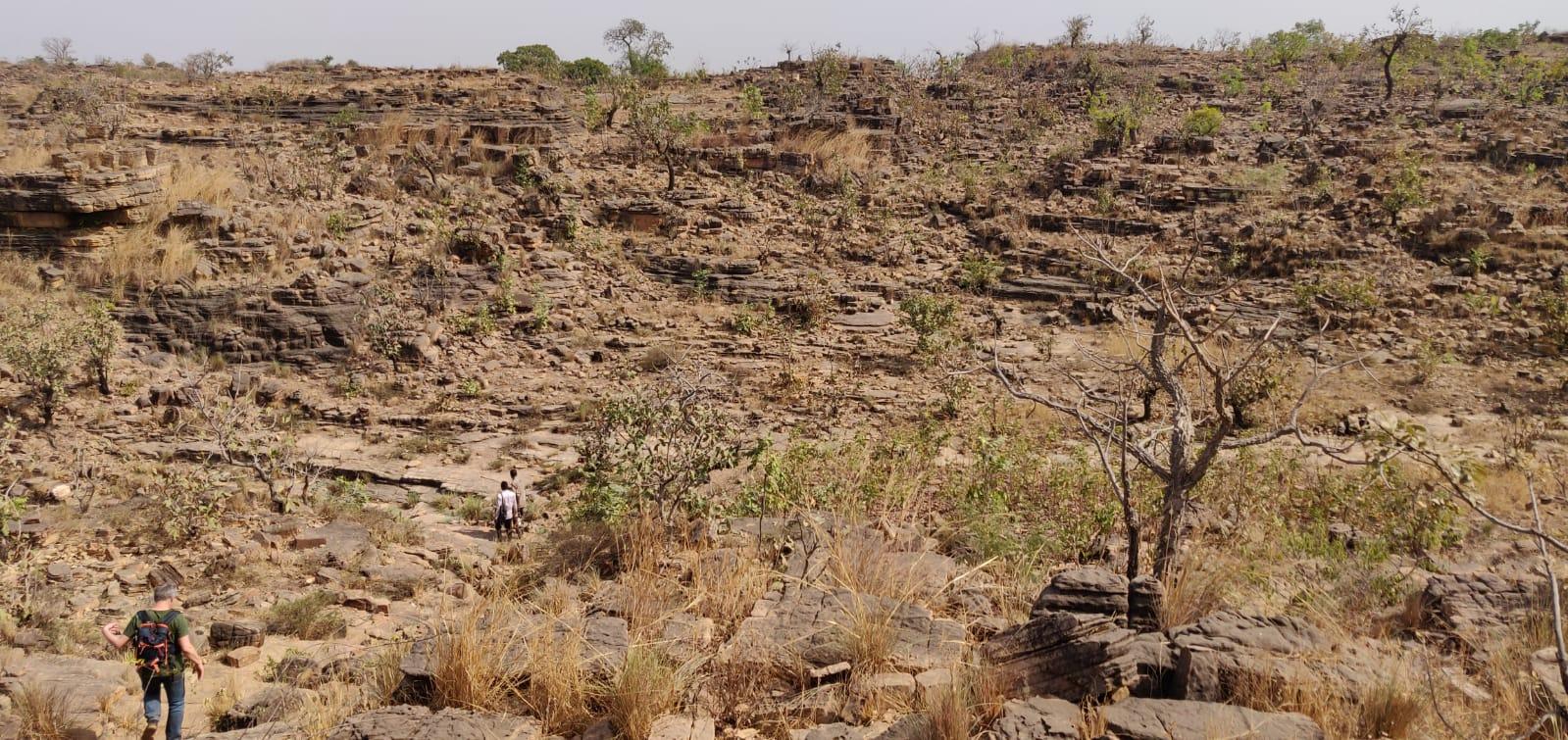 Our trip was not just about taking lessons. We had provided breaks. Our weekend to the village of Daara, near Nouna, however, was canceled. A funeral- remberance (funeraille) was planned, a party for a person who died earlier that year. The planned party had been canceled and there was also a curfew in that province, on the border with Mali. We were therefore forced to stay closer to Bobo. If we had had to go a little further away, it would have been by bus. Now in Bobo we were completely dependent on mopeds and taxis.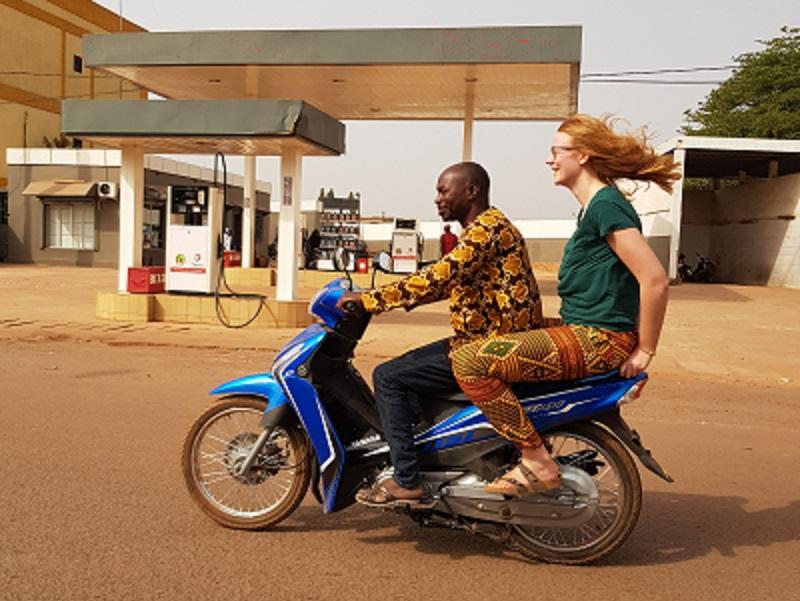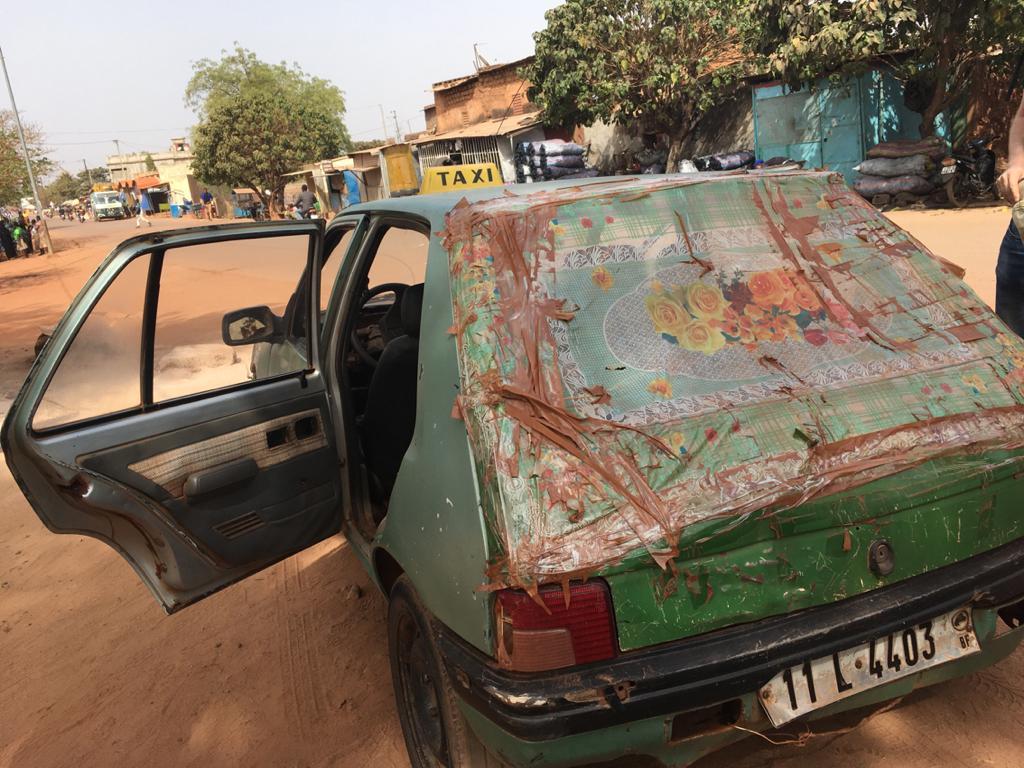 A visit to my friend Moumouni's yard (were he lives with brothers and their families), is a must. With taxis, and with balafons. We played for and sang with the children (+25) and received a lavish meal, the remains of which were quickly used up in the yard. Moumouni's daughter Aicha was the only one allowed to eat with us.
A day at Bobo's music museum, Youssouf's workshop, a visit to Hakiri's yard and a courtesy visit to Haruna Dembele (almost Youssouf's neighbor) took place without me. I was sick day with stomach and intestinal problems. Haruna was not at home but his father was happy with the visit.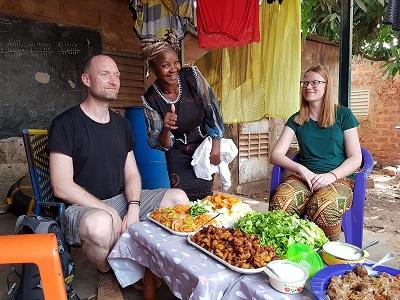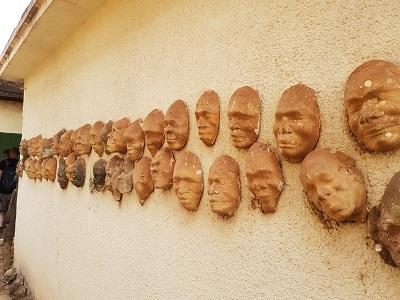 We went out in the evening for concerts.  We visited a concert with Senoufo balafon. The Senoufo dance in a very special way with fast rolls with the feet. We were applauded enthoiusiaist when we tried to bring that down too. We also visited a CD promotion at the Institut Francais, of the band 'Taleard'. The balafon was played by Moussa Traore, our N'Goni teacher. We all bought their new CD of course!
After an attack elsewhere in the country, three days of national mourning had been declared at one point. The program of the Culture Festival that was running at that time was quite mixed up by it. However, we could still join a performance in the Bambous-restaurant.
Finally, we also visited 'Farafina Love' the terrace near ZION, which we visit every year. This year there was a group unknown to us, with a djeli-singer, who told very long stories during the songs. He had the appearance of a world star (he thought). In addition, this year two of our own 'farewell concerts': one at the departure of Anja, and one on our (almost) last evening.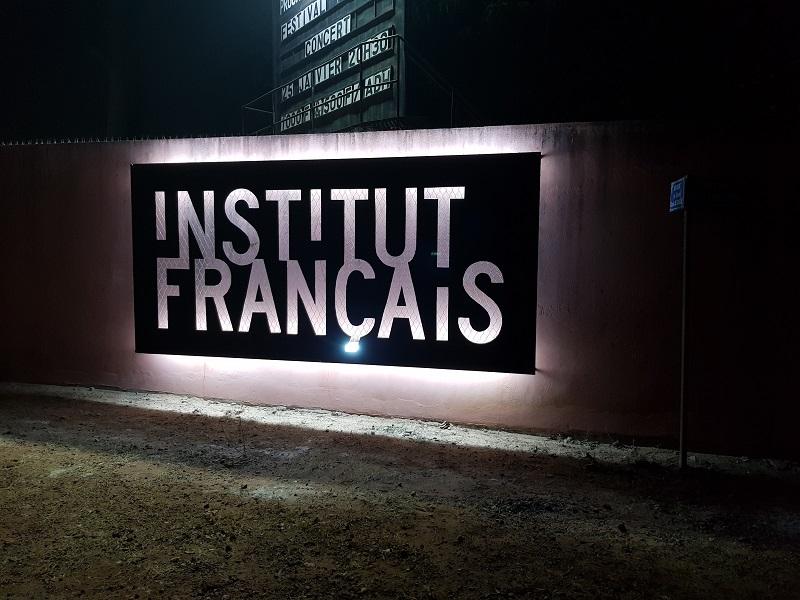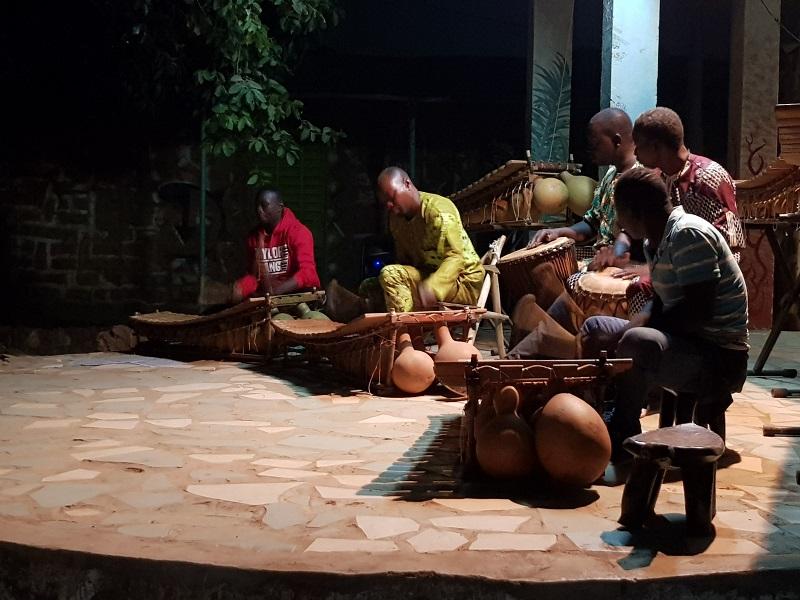 One afternoon we visited Dafra with its sacred fish. After a taxi / moped ride on narrow grass and rock paths, we parked with a local guide and marabout who took us on foot to a hidden valley where there is always water and where the holy fish live, to whom you can make you an offering. We agreed to sacrifice together for peace in Burkina Faso and West Africa and brought three chickens to sacrifice. After a long walk, descending over the rocks to the cave, we arrived at Dafra. Take off your shoes and don't take pictures!. When we arrived at the water, we saw feathers of skinned chickens everywhere that were previously sacrificed. Besides chickens, goats, sheep and even cattle were transported down the narrow rocky path (and lifted back!) to be sacrificed to the fish. Only the intestines of the animals are eventually thrown into the water; the meat can easily be eaten by the catfish-like fish.
In one corner we saw the sacrificial stone and went barefoot through this slaughterhouse environment. The marabout mentioned our names in a story and we were allowed to express our wish passing through one of the chickens hanging upside down in our hands. Above the sacrificial stone appaerd a lizard, who lived there, and which I had seen last time also. After a jugular vein was cut, the squirming chicken was thrown to the ground and we saw a spectacle that makes your stomach turn easily. After the sacrifice, an African songbird with beautiful colors began to sing above the sacrificial site. For us a confirmation that our wish was an appropriate one that would certainly come true.
The chickens were cleaned and we each got the guts to feed the fish. They fought over it! The largest were at least half a meter long and it was a great struggle when another piece of liver or kidney went into the water. We were allowed to wash hands afterwards in the same water.Showering before the next morning wouldn't help make the wish come true…. (and we felt so dirty!)
I had some ideas for describing some more of our adventures from the other members of the group. So soon (next week?) I will update this Forum-item.
This topic was modified 1 year, 1 month ago by

Tech Admin

.
This topic was modified 1 year, 1 month ago by

Paul

.