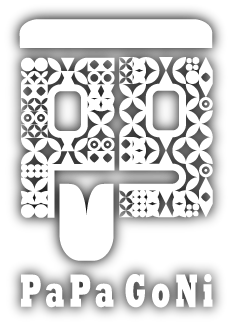 0
0
PaPa GoNi has a huge passion for African music.
Inspired by nature and the immensly rich West African culture, PaPa GoNi incorporates soul, jazz, atmospheric and african music in danceable grooves and an eclectic sound, spiced with djembe solo's, guitar breaks and sparkling harpplay on the kamale n'goni.
Bandmembers come from or travelled to Guinea, Mali, Senegal, Burkina Faso and South America.
Damani Leidsman – lead vocals
Michiel Moerkerk – n'Goni + djembé
Frank Jonas – guitar
Paulus Kock – bassguitar
Sander Berkvens – drums
Lauriane Ghils – n'Goni + percussion + backing vocals
Guests: Tagus Traoré – trumpet+vocals / Octacio Fanes – saxophone
The story behind the bandname
The n'goni plays a central role in our repertoire, therefore it is included in our bandname. PaPa, a percussive sound like two open djembé-slaps, and the meaning of PaPa, are appealing to us. PaPa GoNi has been on a journey … and returns home with a new story.
The story behind the logo
The PaPa GoNi logo depicts a festive mask. It is constructed out of the bands' initials, an african pattern, a hat and a tongue. The logo stands for pleasure and a deep blend of positive world music. The tongue stands for freedom and exuberance. The hat stands for the keeper of good ideas.
---
Past Event(s) with PaPa GoNi
No past event(s) with PaPa GoNi