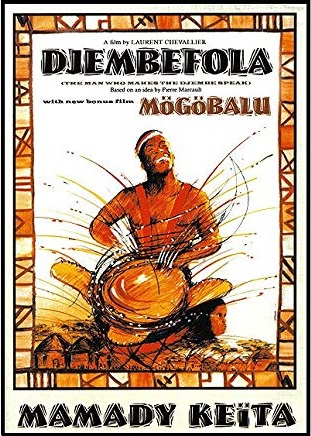 Prior to the 1950s and the decolonization of West Africa, due to the very limited travel of native Africans outside their own ethnic group, the djembe was known only in its original area.
National ballets
The djembe first came to the attention of audiences outside West Africa with the efforts of Fodéba Keïta, who, in 1952, founded Les Ballets Africains. The ballet toured extensively in Europe and was declared Guinea's first national ballet by Guinea's first president, Sékou Touré, after Guinea gained independence in 1958. Two more national ballets followed: the Ballet d'Armee in 1961 and Ballet Djoliba in 1964.
Touré's policies alienated Guinea from the West and he followed the Eastern Bloc model of using the country's culture and music for promotional means. He and Fodéba Keïta, who had become a close friend of Touré, saw the ballets as a way to secularize traditional customs and rites of different ethnic groups in Guinea. The ballets combined rhythms and dances from widely different spiritual backgrounds in a single performance. This suited the aim of Touré's demystification program of "doing away with 'fetishist' ritual practices".
Touré generously supported the ballets (to the point of building a special rehearsal and performance space in his palace for Ballet Djoliba). Until his death in 1984, he financed extensive world-wide performance tours. This brought the djembe to the attention of Western audiences. Other countries followed Touré's example and founded national ballets in the 1960s, including Ivory Coast (Ballet Koteba), Mali (Les Ballets Malien), and Senegal (Le Ballet National du Senegal), each with its own attached political agenda.[
Emigration
In the United States, Ladji Camara, a member of Ballets Africains in the 1950s, started teaching djembe in the 1960s. He continued to teach into the 1990s. Camara performed extensively with Babatunde Olatunji during the 1970s, greatly raising awareness of the instrument in the US.
After the death of Sekou Touré in 1984, funding for the ballets dried up and a number of djembefolas (who were never paid well by the ballets) emigrated and made regular teaching and performance appearances in the west. These djembefolas included Mamady Keïta (Belgium, US), Famoudou Konaté (Germany), and Epizo Bangoura (France, US, and Australia). A number of other djembefolas—M'bemba Bangoura, Abdoulaye Diakite, Bolokada Conde, Mohamed "Bangouraké" Bangoura, and Babara Bangoura, among others—followed their example, creating a ready supply of expatriate performers and teachers in many western countries.
Film
The 1991 documentary Djembefola by Laurent Chevallier depicts Mamady Keïta's return to the village of his birth after a 26-year absence. Upon release, the movie won the Wisselzak Trophy and Special Jury Award at the International Documentary Film Festival Amsterdam, and the Audience Award at the Marseille Festival of Documentary Film. Thus it brought the djembe to the attention of a wide audience.
A 1998 follow-up documentary, Mögöbalu (also by Chevallier), contains concert footage uniting four master drummers (Soungalo Coulibaly, Mamady Keita, Famoudou Konaté, and Doudou N'Diaye Rose) on stage.
The Oscar-nominated 2007 drama The Visitor ensured that the djembe was noticed internationally by mainstream viewers.
Western music
The djembe has been used by many modern artists, including Paul Simon, Cirque du Soleil, and many others, raising awareness of the instrument with western audiences.
Recordings
Recordings of the djembe far surpass the number of recordings of any other African drum. Beginning in the late 1980s, a slew of djembe-centric recordings was released, a trend that, as of 2014, shows no sign of abating. This is significant because these recordings are driven by the demand of western audiences: there are almost no djembe recordings within African markets.
Educational material
Among the earliest educational resources available to a student of the djembe were an educational VHS tape by Babatunde Olatunji released in 1993, as well as books by Serge Blanc, Famoudou Konaté, and Mamady Keïta. In 1998, these were supplemented by a three-volume VHS set by Keïta and, in 2000, by a VHS tape by Epizo Bangoura. Since then, the market for educational materials has grown significantly. As of 2014, dozens of educational books, CDs, and videos are available to an aspiring player.
Tourism
Starting in the 1980s, a number of Guinean djembefolas (Epizo Bangoura, Famoudou Konaté, Mamady Keïta) started hosting study tours to Guinea, allowing djembe students to experience Guinean culture first-hand. Many other djembefolas followed suit. As of 2014, a potential visitor can select from tens of djembe tours each year. Djembe tourism created a market for djembefolas in Guinea that previously did not exist. Young djembefolas try to emulate the success of their predecessors and cater to the needs of the tourists, leading to change and commodification of the original djembe culture.
Commercially produced instruments
Most djembes from Mali, Guinea, Burkina Faso, and Senegal are still hand carved from traditional species of wood, using traditional tools and methods. In the 1990s, djembes started being produced elsewhere, such as in Ghana, Nigeria, South Africa, and Indonesia, often using modern machinery and substitute species of wood, such as tweneboa (Cordia platythyrsa) or mahogany (Swietenia mahagoni or Toona sureni). However, these woods, being softer and less dense, are not as suitable as the traditional woods. A number of western percussion instrument manufacturers also produce djembe-like instruments, often with fibreglass bodies, synthetic skins, and a key tuning system.
Women djembefolas
The traditional barriers against women djembe and dunun players have come down over time. In 1998, Mamoudou Conde, director of the ballets Les Percussions de Guinée, Les Ballets Africains, and Ballet Djoliba, began to explore the idea of including women djembe and dunun players in ballet performances, against considerable initial resistance from male performers. Despite this, he included two female djembe players in the 2000 American tour of Les Percussions de Guinée. Based on positive feedback from that tour, Conde decided to form an all-female ballet group called Amazones: The Women Master Drummers of Guinea (renamed Nimbaya! in 2010). The group first toured the US in 2004 and continues to perform, with tour dates scheduled out to 2014.
There are several notable female djembefolas, including Salimata Diabaté from Burkina Faso (lead djembefola of Afro Faso Jeunesse),[35] Monette Marino-Keita from San Diego (winner of the 1st National "Hand Drum-Off" Competition in 2001), Anne-Yolaine Diarra from France (djembefola with Sokan),[37] and Melissa Hie from Burkina Faso, (lead djembefola of Benkadi).
Source: Wikipedia, this content is released under Creative Commons BY-SA license. Adapted to improve readability.