0
1
Hartbeats provides workshops & performances for a wide range of events, groups, promoters and organisations, focusing mainly on traditional West African rhythms, played on drums such as the 'djembe' and 'dundun'. Led by Justine Hart, accompanying songs and dances may also be taught or performed, depending on bespoke requirements.
Workshop sessions boost the energy and receptivity of the participants, along with enhancing listening skills. Traditional drums and percussive instruments are provided for all workshop participants, who do not need any prior knowledge of drumming or musicianship. Whether teambuilding is the goal, or just to have fun, both just happen!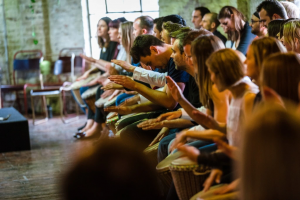 Over the years, a wealth of Justine's students have also steadily built up their own experience with drumming technique and showmanship, with a wide inventory of West African rhythms under their belt. Hartbeats Vitae Drummers are able to adjust their group size depending on venue, which means anything from a few people playing a tiny pub to 35 members performing at a large festival attended by thousands.
Hartbeats mainly covers the South East, is based in Buckinghamshire, and is always happy to provide performances and workshops further afield by arrangement.