0
0
Please notice that we use the 24h time system.
This trip is the very best of African holidays! Sidiki is delighted to open up opportunities to take part in a two week long adventure in djembe, dundou, balanfon and dance in his homeland, The Ivory Coast. You will have the honour of being taught by the most talented young artists, trained from childhood in West African musical heritage and traditions. Group workshops and one to one tuition will be available. You will stay on Sidiki's family compound and all accommodation and meals are included in the price of the trip.
Whilst in Abidjan, you will be able to throw yourself into the local community life and get to know our neighbours, who are always delighted to welcome you with a warm smile. The coffee is amazing too!
As well as learning the arts from authentic West African teachers, you will also have the chance to explore the local area. There'll be a trip to a traditional Djembe factory, where you can see how the instruments are made, ask questions and perhaps treat yourself! We'll also get out into the city to explore the local sights and enjoy the local markets. We will visit the outstanding local conservation preservation project in the wonderous Banco National Park. A driver and guide will accompany students around the fascinating oasis of green and lush vegetation – with its huge variety of butterfly species and a documented, but elusive, family of chimpanzees.
Throughout both weeks there will be ample opportunities for all students to participate in or just rock up and watch performances by the amazing Denifari.
Click here to read a review of our Jan 2020 trip from one of our lovely students.
Balafon and Dance Teachers
Abbala Diabaté
Our amazingly talented young balafonist started playing at only five years old – but already enjoys the acclaim of a seasoned artists. Nicknamed Le Petit Géni, he has shared a stage with the greatest names in Afro contemporary and traditional music, and is the front man of the extraordinary family band, Djarabikan. Here's a taster for you! What an opportunity!
Aminata Sarba
A native of Abidjan, this powerful and inspirational dance professional will be joining us in the compound to share her passion for traditional dance.
She has a background in choreography, with a charismatic persona and an open heart, who has worked in professional ballet companies across West Africa. In recent years, she has played a key role in choreography and performance with Abidjan dance companies, Compagnie RemDe, Gbassé de Saint Pedro, Nzassa Danse and Bendia
All this for the bargain price of £800 if you pay deposit of £350 by 15th August 2020. Bookings taken after this date will be charged at £900
Compound accommodation and all meals are included in this amazing offer
Facilitator: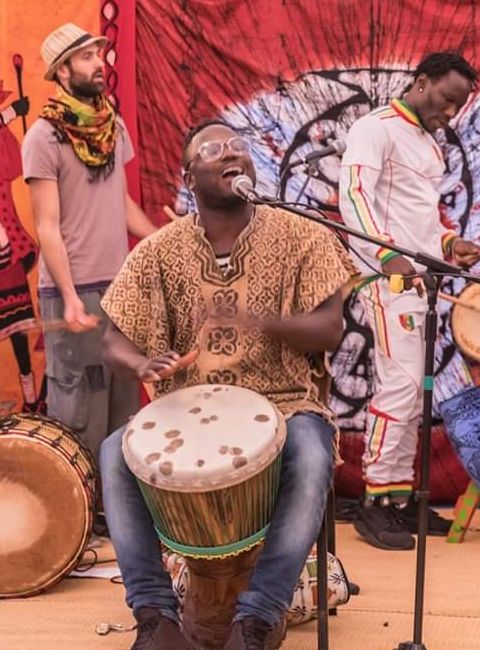 facilitator:
Sidiki Dembele